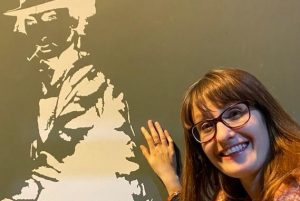 Our Let's Chat series shines the spotlight on our all-important stakeholders that form a vital part of Engine Shed. We sat down with Lorraine Fairbanks, outgoing Partnerships Manager at Engine Shed, to find out what she learnt about good partnerships from her eight years in role and what her new role at the University of Bristol involves.  
For those that don't know much about you, what is your current role and your background? 
I'm the Translational Hub Manager for the Social Sciences and Law faculty at University of Bristol, supporting academics to achieve impact at scale from their research. I will be supporting collaborative projects such as Dr Lucy Kelly's Reimagining the diary and Dr Jon Beaverstock's work on the regional Fintech cluster, in addition to the Aspect network which explores commercial opportunities for the social sciences. Before this I was Partnerships Manager at Engine Shed. 
As Partnerships Manager at Engine Shed, what were your main focus areas?  
Onboarding and engagement with our Lounge members, creating new opportunities for partnership and sponsorship, and leading our Diverse Workforce for the Future programme. 
Why was the Diverse Workforce for the Future programme so important to you? 
Coming from a background as the first in my family to go to university and, having worked to widen participation to the University of Bristol by increasing visit opportunities for those from similar backgrounds to myself, I know how important it is to have visible opportunities to change your circumstances.  
Data shows that if young people have just four experiences of the workplace, then 98% of them will go on to positive destinations and are likely to have higher salaries in the future, so businesses have a huge role to play in supporting future progression and social mobility.  
There is also a shortage of skills in the tech, advanced engineering and creative sectors and Bristol has a number of areas of multiple deprivation with lack of visibility of these career areas which provide huge opportunities.  
What makes for a good partnership at Engine Shed? 
Understanding each other's needs. Helping an organisation connect into the ecosystem and providing a place for people to broaden their connections and link in with our inclusive economic growth agenda. Being open with our willingness to support people and finding networks that could complement our tenants and other members.  
What job market skills and talent changes did you observe during your time at Engine Shed?  
More specific focus and programmes relating to areas like data analytics and visualisation, AI, fintech and cyber, complementing our broader activities to raise awareness of opportunities in Science, Technology, Engineering, Arts and Manufacturing (STEAM). The importance is that activities are being targeted at areas of greatest need. The WECA Careers Hub, the Workforce for the Future programme and recent initiatives like CyberFirst also have a greater role in supporting businesses to work together with schools to make this happen. 
Your last new initiative at Engine Shed was the Community Partnership – can you tell us a bit about this? 
I had been looking for opportunities to engage more community organisations in Engine Shed to diversify our networks and realised this could align well with the needs of our corporate members who were feeding back that they required support to achieve the same thing.  
I thought it would be great to bring this together and so we now have a Community Partnership model for corporate Engine Shed members to "top up" their own Engine Shed membership to enable a community partner to also enjoy the full benefits. 
One of our longest standing partners were really open to piloting this concept to support their CSR and recruitment goals and I'm excited that it will be announced soon. I'm particularly glad that they chose two fantastic community organisations with an emphasis on young people's careers and supporting social enterprises.  
What is the project you are most proud of at Engine Shed and why? 
Working with a breadth of education partners on great initiatives including: TeachFirst teacher work experience, Engine Shed on Tour with boomsatsuma, DigiLocal Coding Clubs, MyFutureMyChoice's Learning Ships, Future Brunel's programme and Tech Tours with Unit DX, Ultraleap and BJSS. We were also nominated as IntoUniversity's partner of the year! 
How will you continue to create partnerships in your new role at the University? 
The role has a requirement to connect academics with business support and community partners and to continue to diversify my own networks to support this work and always think about that when accessing my existing network to support programs, making sure speakers or events are giving diverse perspectives.