Engine Shed Events
A full list of events hosted or supported by Engine Shed can be found here. Engine Shed runs a variety of events and sessions that are open to the public, either in the Junction and Member's Lounge, or at partner venues, including 'in-Residence' services for those looking for financial or property advice. We also support a range of partner events on important topics and opportunities.
SETsquared #Idea2Pitch

Time: 1.30 - 5pm Location: The Coach house 2 Upper York Street Saint Paul's BS2 8QN

SETsquared Bristol's #Idea2Pitch will help hone your ideas, and shape them into a pitch for gaining interest or support in your venture

Get Up, Start Up!

Time: 6pm Location: Engine Shed

Join us for pitching and karaoke at Bristol's newest meetup!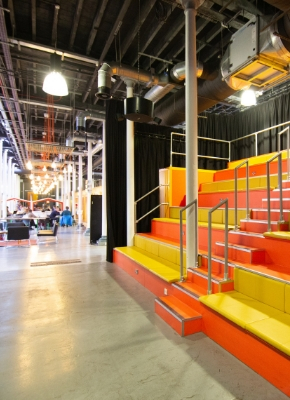 Use our spaces
Running an event?
If you're looking for a space to host your own event, Engine Shed has a range of options to suit just about anything. From tiered bleacher seating in the Junction, to workshop and seminar spaces in the boardroom, dinner or networking in the Members' Lounge, to product launches and demos at Platform 14, we've got your needs covered.
View our events spaces
Public events hosted by Engine Shed
Events that are being run by external organisations, held at Engine Shed will be updated here regularly.
The work of Bridges to Prosperity – saving lives and livelihoods in Africa

Time: 6pm - 7.30pm Location: Engine Shed

Ian Firth will speak about this life changing work, describing the bridges themselves, their design and construction, and the huge impact they have on the communities they serve. He will also outline how volunteers can get involved by partnering with B2P and travelling to Africa to help in this wonderfully inspiring and important work.
More events from our friends and partners