Engine Shed Events
A full list of events hosted or supported by Engine Shed can be found here. Engine Shed runs a variety of events and sessions that are open to the public, either in the Junction and Member's Lounge, or at partner venues, including 'in-Residence' services for those looking for financial or property advice. We also support a range of partner events on important topics and opportunities.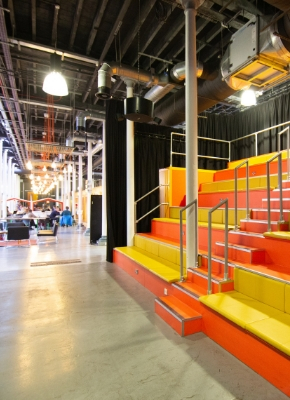 Use our spaces
Running an event?
If you're looking for a space to host your own event, Engine Shed has a range of options to suit just about anything. From tiered bleacher seating in the Junction, to workshop and seminar spaces in the boardroom, dinner or networking in the Members' Lounge, to product launches and demos at Platform 14, we've got your needs covered.
View our events spaces
Public events hosted by Engine Shed
Events that are being run by external organisations, held at Engine Shed will be updated here regularly.
Digital Cities Bristol 2020 – boomsatsuma's 'Ask Me Anything'

Time: 5.00pm - 7.00pm Location: Engine Shed

Have the opportunity to meet meet the city's most exciting digital pioneers and employers.

BBC Academy Developing Digital Skills Day

Time: 8.30am - 4.00pm Location: Engine Shed

Get involved with an exciting range of free talks, workshops and creative sessions, each exploring the latest in digital content and how to tell fantastic multiplatform stories.

LinkedIn Master Class

Time: 9.30am - 16.15pm Location: Engine Shed

This workshop will show you how to find and be found by your ideal clients, engage them in conversation and generate regular opportunities

An Introduction to Community-Led Housing for Housing Professionals

Time: 9.00am - 1.00pm Location: Engine Shed

These Seminars are for housing professionals who want to know more about Community-Led Housing.

DBACE 2020: Bristol Meet & Greet

Time: 10.00am - 5.00pm Location: Engine Shed

The DBACE team will be in Bristol to meet with you and answer any questions you may have about your DBACE application. The format will be 1:1 sessions with a member of the MeWe360 team.

Treasurer Training – Bristol

Time: 10.00am - 4.00pm Location: Engine Shed

Treasurer Training is a full-day course for anyone who is undertaking the role of area or group treasurer, or about to take the role on.

Creating a Global Data Standard: Can It Be Done?

Time: 6.30pm - 8.00pm Location: Engine Shed

This CIBSE South West event will look at the creation of a 'single digital language' across the building services industry.

MailChimp: A Crash Course for Charities & Social Businesses

Time: 9.30am - 4.00pm Location: Engine Shed

Email marketing's not dead, it's just pining for the fjords. Learn how to bring yours to life with this full day workshop.
More events from our friends and partners