Engine Shed Events
A full list of events hosted or supported by Engine Shed can be found here. Engine Shed runs a variety of events and sessions that are open to the public, either in the Junction and Member's Lounge, or at partner venues, including 'in-Residence' services for those looking for financial or property advice. We also support a range of partner events on important topics and opportunities.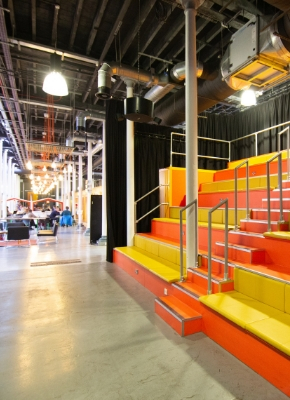 Use our spaces
Running an event?
If you're looking for a space to host your own event, Engine Shed has a range of options to suit just about anything. From tiered bleacher seating in the Junction, to workshop and seminar spaces in the boardroom, dinner or networking in the Members' Lounge, to product launches and demos at Platform 14, we've got your needs covered.
View our events spaces
Public events hosted by Engine Shed
Events that are being run by external organisations, held at Engine Shed will be updated here regularly.
Start-Up Drinks Bristol

Time: 6.00pm - 8.00pm Location: Engine Shed

UWE Enterprise and the University of Bristol Basecamp Enterprise Team invite you to come along to our fun, informal networking evenings.

Creating a Global Data Standard: Can It Be Done?

Time: 6.30pm - 8.00pm Location: Engine Shed

This CIBSE South West event will look at the creation of a 'single digital language' across the building services industry.

Physical Activity for Good Mental Health

Time: 12.00pm - 2.00pm Location: Engine Shed

Join wesport for this FREE workshop for employees at all levels to gain support and advice to improve mental health and reduce stress and anxiety through physical activity

Practical Embedded Linux Device Drivers

Time: 9.00am- 5.00pm Location: Engine Shed

A hands-on course to enable you to write device drivers for hardware peripherals and devices in an embedded Linux system.

OSR – Mental Health Statistics Workshop – Bristol

Time: 10.30am - 12.30pm Location: Engine Shed

https://www.eventbrite.co.uk/e/osr-mental-health-statistics-workshop-bristol-registration-78003573789

Franchising for Growth: An Expert Panel

Time: 9.30am - 11.30am Location: Engine Shed

Looking to grow your business? Have you considered franchising as a route to growth?

MailChimp: A Crash Course for Charities & Social Businesses

Time: 9.30am - 4.00pm Location: Engine Shed

Email marketing's not dead, it's just pining for the fjords. Learn how to bring yours to life with this full day workshop.
More events from our friends and partners