Engine Shed Events
Engine Shed Event Series 2023  – a series of events showcasing the best of innovation in the West of England region.
Our Quantum Event Series runs October to December. If you would like to get involved by speaking, exhibiting, sponsoring, attending or hosting your own quantum event at Engine Shed, please share your details here.
Christmas Social

Time: 18:00 Location: Engine Shed

Festive celebrations for our residents & members to celebrate 10 years of Engine Shed.

Engine Shed Event Series: Quantum of Social

Time: 17:00 - 20:00 Location: Engine Shed

Join us as we bring together the Bristol quantum community to connect and collaborate!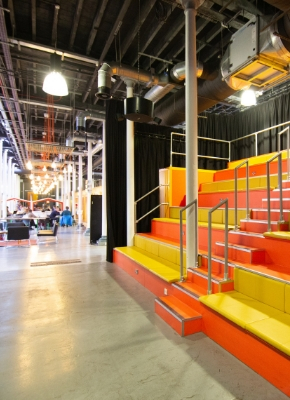 Use our spaces
Running an event?
If you're looking for a space to host your own event, Engine Shed has a range of options to suit just about anything. From tiered bleacher seating in the Junction, to workshop and seminar spaces in the boardroom, dinner or networking in the Members' Lounge, to product launches and demos at Platform 14, we've got your needs covered.
View our events spaces
Public events hosted by Engine Shed
Events that are being run by external organisations, held at Engine Shed will be updated here regularly.
SETsquared Workshop: What's Your Purpose? (Branding)

Time: 14:00 - 16:00 Location: Engine Shed

How will your company stand out if you and all your competitors look and sound the same?
More events from our friends and partners