Engine Shed Events
A full list of events hosted or supported by Engine Shed can be found here. Engine Shed runs a variety of events and sessions that are open to the public, either in the Junction and Member's Lounge, or at partner venues, including 'in-Residence' services for those looking for financial or property advice. We also support a range of partner events on important topics and opportunities.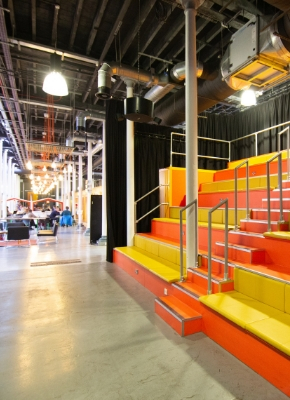 Use our spaces
Running an event?
If you're looking for a space to host your own event, Engine Shed has a range of options to suit just about anything. From tiered bleacher seating in the Junction, to workshop and seminar spaces in the boardroom, dinner or networking in the Members' Lounge, to product launches and demos at Platform 14, we've got your needs covered.
View our events spaces
Public events hosted by Engine Shed
Events that are being run by external organisations, held at Engine Shed will be updated here regularly.
More events from our friends and partners
Enterprising Women Showcase 2020

Date: 27 Oct 2020
Time: 6.00pm - 7.30pm
Location: ONLINE EVENT

SETsquared Bristol delighted to showcase 18 women-led startups that have been supported by the Natwest funded Enterprising Women 2020 Pre-Incubation programme. The programme helps innovative early stage women-led businesses access elements of SETsquared's world-class business support and work towards commercialisation.

SETsquared #Idea2Pitch Event

Date: 10 Nov 2020
Time: 1.30pm - 5.30pm
Location: Engine Shed

Do you have a great tech business idea, but don't know where to start? Or are you unsure what to do next in order to grow your technology company? Then sign up for #Idea2Pitch event hosted by SETsquared Bristol to help hone your ideas, and shape them into a pitch for gaining interest or support in your venture.