Engine Shed Events
A full list of events hosted or supported by Engine Shed can be found here. Engine Shed runs a variety of events and sessions that are open to the public, either in the Junction and Member's Lounge, or at partner venues, including 'in-Residence' services for those looking for financial or property advice. We also support a range of partner events on important topics and opportunities.
Engine Shed Quarterly Investment Briefing

Time: 12.30pm - 2.30pm Location: Engine Shed

Investors are invited to attend this regular event to network, share experience and learn about investment opportunities together.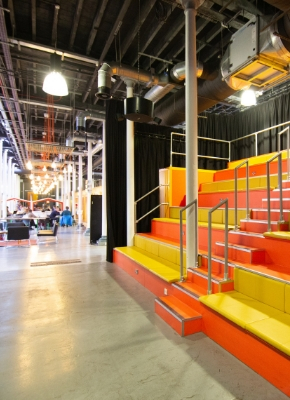 Use our spaces
Running an event?
If you're looking for a space to host your own event, Engine Shed has a range of options to suit just about anything. From tiered bleacher seating in the Junction, to workshop and seminar spaces in the boardroom, dinner or networking in the Members' Lounge, to product launches and demos at Platform 14, we've got your needs covered.
View our events spaces
Public events hosted by Engine Shed
Events that are being run by external organisations, held at Engine Shed will be updated here regularly.
How to Create Compelling Social Video on Any Budget – Food & Drink Industry

Time: 6.00pm - 9.00pm Location: Engine Shed

Fourth Floor Creative, one of the UK's leading influencer marketing agencies, is excited to announce the first in a series of content marketing event for the food and drink industry: Takeaway.

Growing your business on solid foundations

Time: 08.45am-11.45am Location: Engine Shed

This is the opportunity to hear from industry experts on common challenges businesses face when looking to scale up, how to strategically grow your business and set solid foundations for the future.

Boosting access to energy efficiency for SMEs: stakeholder workshop

Time: 10.00am - 1.00pm Location: Engine Shed

Exploring the challenges that SMEs and landlords have in accessing energy efficiency measures and funding.

Black Girl Convention 2019

Time: 9:00am - 7:00pm Location: Engine Shed

Opportunities to engage in a range of workshops, experience live demos, hear powerful stories from trailblazing individuals, participate in debate and discussions, shop in the market place and enjoy some amazing live performances.

OBN BioTuesday South West Health Tech & Medical Device Showcase

Time: 5.30pm - 9.00pm Location: Engine Shed

This edition of our BioTuesday event is a 'South West Health Tech & Medical Devices Showcase', that will provide a platform for new and emerging Health Tech and Medical Device companies in the South West region of the UK to share an update on their latest innovation.

Opportunities in the Chinese environmental sector

Time: 11.30am-3.00pm Location: Engine Shed

Join DIT Southwest to find out more on the opportunities in China for businesses in the water, environmental and infrastructure sector from Jill Liang and Jeremy Randall.

Ready Steady Grow! 2019 – Bristol

Time: 8.00am - 10.30am Location: Engine Shed

Ready Steady Grow! 2019 is the best opportunity for entrepreneurs, investors and business advisers to meet and share knowledge on all the exciting funding options and growth financing for start ups and SMEs.

Workforce for the Future Briefing

Time: 3.00 - 5.00pm Location: Engine Shed

The West of England Combined Authority (WECA) will be launching Workforce for the Future shortly. The £8m Programme aims to support SMEs to use the skills system to better prepare and plan for, as well as take a much more active role in realising, their workforce of the future.

Opportunities for Investing in Creative Industries

Time: 1.30pm-6.00pm Location: Engine Shed

Description Join us for an afternoon of interactive debates, stimulating conversation and deep-dives into the angel funding mix, as we explore the exciting world of early stage investing in the UK and how to make the most of building your portfolio.

Back Her Business Launch

Time: 6.00pm - 8.00pm Location: Engine Shed

Are you a woman with a new business, business idea or side-hustle hobby who is looking for support in setting up and accessing funding? SETsquared Bristol are proud to have partnered with Natwest's Back Her Business initiative, supported by Crowdfunder, to launch a free programme to help women-formed businesses

Physical Activity for Good Mental Health

Time: 12.00pm - 2.00pm Location: Engine Shed

Join wesport for this FREE workshop for employees at all levels to gain support and advice to improve mental health and reduce stress and anxiety through physical activity

Practical Embedded Linux Device Drivers

Time: 9.00am- 5.00pm Location: Engine Shed

A hands-on course to enable you to write device drivers for hardware peripherals and devices in an embedded Linux system.

Franchising for Growth: An Expert Panel

Time: 9.30am - 11.30am Location: Engine Shed

Looking to grow your business? Have you considered franchising as a route to growth?

MailChimp: A Crash Course for Charities & Social Businesses

Time: 9.30am - 4.00pm Location: Engine Shed

Email marketing's not dead, it's just pining for the fjords. Learn how to bring yours to life with this full day workshop.
More events from our friends and partners