Hi Libby – welcome on board as our Venue & Events Manager whilst Paige Scarman is on maternity leave.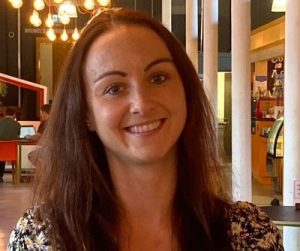 Can you tell us a bit about your role at Engine Shed?
My role is to manage our meeting rooms, event and office spaces, Members' Lounge and the Front of House team. I am also responsible for the planning of major events, such as the upcoming Bristol Technology Festival where 14 events will be hosted at Engine Shed, and internal events planning. Our members and visitors are at the forefront of what we do, so I'm looking forward to getting to know people and making sure we offer the services they need.
And what did you do before joining us?
Before Engine Shed I was working at Business West as a Senior Events Executive for the Bristol and West of England Initiative and the Business West Chamber of Commerce. I have also worked in events and customer management at Bristol Zoo and The Bristol Hippodrome.
What's your early impressions of Engine Shed?
It's an inspiring place to work; it's going to be a lot of hard work but fun also. Everyone has been friendly and welcoming.
What is your favourite thing about this amazing building?
That you can go from industrial and modern décor one minute and then step into a meeting room that throws you straight back into Victorian times.
Have you always lived in Bristol and what keeps you here?
No, I am not an original Bristolian, but I have lived here for 16 years so it's very much home. I love the city for the diversity, the culture, the colourful street art, the food, the yearly event programme, the balloons; there is always so much going on. What more could you want from a city!
What do you do outside of work that you'd recommend to our community?
I spend most of my free time dancing, anything from Classical Ballet to African Dance. During lockdown I trained to be a Carnival Fitness Instructor for Piloxercise. If you have never heard of them look them up and try a class – you will get hooked!
Further team info and contact details – https://engine-shed.co.uk/team/