On Tuesday 14 January we welcomed Year 5 pupils from Blackhorse Primary School in Emersons Green to our first Tech Tour, in partnership with BJSS and Ultraleap, for a day of activities in science, technology, engineering, arts and maths (STEAM).
Tech Tours aim to show young persons, ages 9-13, about the diverse tech jobs in the region which are accessible to them, and to demonstrate the positive impact young persons can have on the future of the world by pursuing STEAM as a career.
What did the pupils do?
The pupils attended three workshops during the day.
A workshop by SETsquared member Maths with Parents asked pupils to create a business by first deciding what problem they wanted to solve. This resulted in new business ideas from a solution for the bedroom light switch being too far from the bed to an app that helps groups decide on decisions between themselves.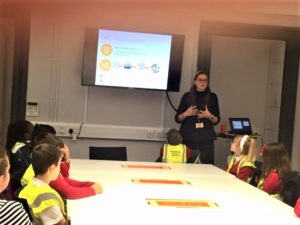 Lucy Preston from Maths with Parents hosting a Tech Tour workshop
A further workshop by BJSS and DigiLocal taught pupils how to develop their own programmes in Scratch. All the young people produced amazing random poetry generators, with lots of personal touches and embellishments.
The pupils then visited hand tracking and haptics company, Ultraleap, who ran a workshop on different senses, haptics and sounds. The pupils were invited to their Experience Room where they experienced the magic of mid-air haptics and 3D hand tracking.
Samantha Wade-Brown at Ultraleap said: "It was a pleasure to host pupils from Blackhorse Primary School as part of Engine Shed's Tech Tours. It was so successful that we even had some pupils asking to hand their CV in!"
The day concluded with a walking tour of the historic Engine Shed building, where the pupils experienced different working environments, from office spaces to coworking and flexible desk spaces, and had the chance to see some exciting tech businesses in action.
The pupils gave some great feedback at the end of the day.
Sophia said: "I thought it was great as we got to play on VRs and learn how they work as well as understanding code which will become a vital part of our future".
Oscar said: "It was a fun day out and was interesting to see how ultrasound can be used in the future for technological projects and to enhance our lives".
Why Tech Tours?
Tech Tours is part of Engine Shed's Diverse Workforce for the Future Project, to engage young people around career opportunities in sectors where adults from diverse backgrounds are currently under-represented.
To enquire about availability for a school Tech Tour, please contact Lorraine Fairbanks by email at schools@engine-shed.co.uk