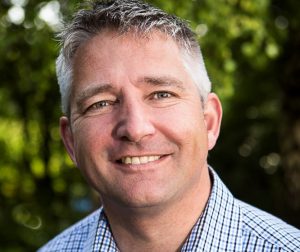 Our Let's Chat series shines the spotlight on our all-important stakeholders that form a vital part of Engine Shed. We sat down with James Durie, Chief Executive of Bristol Chamber of Commerce and Initiative & Executive Director of Business West, to find out how is role gives him the privilege to represent lots of businesses and great people, and what makes Bristol a 'sticky' place to live and work.
For those that don't know much about you, what is your role and what is your background?
I lead and take action for the business community of Bristol and Bath as the Chief Executive of Bristol Chamber of Commerce and the West of England Initiative and as Executive Director for Business West, which acts as the umbrella organisation.
I was born and grew up in Bristol, trained, qualified and practised as a Chartered Surveyor in London, then briefly in Hong Kong and returned to Bristol about 20 years ago, joining Business West a couple of years later following my interest to take on a wider role across a city region and its business and employer community.
What is Bristol Chamber of Commerce & Initiative's main purpose?
The Chamber exists to help businesses be successful and to support them to work with each other, have a voice, and access services. The Initiative is our business leadership team which has enabled its business community to be involved right at the heart of improving this region as the best place to live, work, learn, visit and invest in.  We've also brought together over time the chambers for South Gloucestershire, North Somerset, North East Somerset, Gloucestershire and Wiltshire to drive efficiencies and consolidate and strengthen the voice and influence of business. Driven by the Initiative and with leadership of many senior business people we have a track record of great achievement over the past 30 years, but also hold a long term strategic view of the future which exhorts our city region and its political and other leaders, to fulfil its great potential.
How has Bristol's reputation for business changed in the 20 years you've represented the city?
I think Bristol has gone through a huge change and improvement during my time in post. It's become a place of choice that many people choose to stay or relocate to. It's a sticky place – people like the quality of life and work. We've got a very knowledge focused economy based around intellectual property, creativity, and significant industry such as aviation and cyber. It's the intersection of these industries that makes Bristol so exciting. And an independence of thought and sometimes action which helps make it the place it is. There are many challenges ahead to tackle inequality, but we have incredible ingredients.
Since the pandemic and our exit from the EU, what do businesses most need help with from Bristol Chamber of Commerce, the Initiative and Business West?
Over the past year we have supported over 40,000 businesses through the impact of the pandemic. We also have a number of companies coming to us looking for help on how to trade overseas, and, in particular, goods into the EU market. They need help navigating some of the new administration and regulation hurdles which are being put in place and making sure they're compliant with the right documentation or following the right process.
Closer to home we continue to look at ways to support companies who are currently experiencing staff shortages, in particular in the manufacturing and hospitality sectors. We use our intelligence to work with the West of England Combined Authority, local councils and universities and colleges but also at the national level via British Chambers to try and find ways to solve the problem.
What one thing would make Bristol a better place to live and work in?
The unique and essential opportunity to decarbonise and show others the way – at a pace that is uncomfortably fast but necessary. It's in our hands right now and needs to be done in a just way that doesn't further disadvantage the parts of our communities that are hardest pressed but improves our city region and its businesses to make it happier, healthier and more prosperous.
How would you describe Engine Shed?
It's known as probably the main collaboration innovation hub in Bristol which has been able to mould the best of the old (Brunel architecture) and the new in Central Bristol. It's a great success story on economic, social and environmental levels. Led by its great team it's an example of what we are good at in this city.
Business West played a part in the original bid for the hub through our role in setting up and running the business side of the LEP. For our city and its modern-day economy to run it's important to bring business together with the ability to rub shoulders with different people from industry, local government, central government, academia and the voluntary sector. We've been Lounge members from the start, and our team and many of our members use the space to meet with people and work.
How does Business West work with Engine Shed to support enterprise & innovation in the region?
We support many businesses to set up, scale up, innovate or look at export markets and Engine Shed are core partners with us on this. We also run The Bristol Initiative charity trust which supports activity working on education and diversity. Engine Shed, with their Diverse Workforce for the Future programme, has been able to projects including BeonBoard and My Future My Choice. For the latter, this has included enabling lots of young people to visit Engine Shed to get an experience of what the world of work and business look like. They get to see and talk to entrepreneurs working in their tech incubator, SETsquared Bristol, and that hopefully plants a seed that they can get something different out of their own education and develop their own futures.
How do you promote diversity and inclusion within your workplace and initiatives?
As a BCorp organisation it's one of our top priorities, both as an employer ourselves but also in our role to lead and serve the business community at large. We work with a range of organisations including Black South West Network, Babassa (CEO Poku Osei is on our Board) and with key individuals across the city including Marti Burgess, Sado Jirde, Mohammed Saddiq, Asher Craig and Kalpna Woolf, and we have an active approach to attracting a diversity of membership to our membership. It makes sense in every way to build a stronger business and city region community, harnessing all its talent.
To what extent can Bristol do more for entrepreneurs?
Bristol can continue to strengthen and develop its ecosystem and join up its offer to ensure that entrepreneurs get the right components and support to launch and grow businesses. Those needing help shouldn't have to knock on lots of different doors to do this. This is the formal responsibility of the West of England Combined Authority, but also with Business West, our universities and colleges, enterprise hubs, councils, incubators/accelerators and investors in the region. We have a city bursting with entrepreneurial energy and need to ensure as a place we can support it.
How do you see the future role that universities need to have in a city economy?
I think universities have always been important, but they are becoming more important because skilled people are the key resource for our economy. In our C20 UK economy, knowledge is key and universities are right at the centre for Bristol and the West of England of being able to retain, attract and hold onto bright and talented people across our strong diverse economy.
Plans for the University of Bristol's new Temple Quarter Enterprise Campus are bold and hugely exciting; to take on new growth and bring together the social sciences with the technology creative elements in areas such as the Bristol Digital Futures Institute (BDFI). I believe it has the potential to be a game changer for our city.