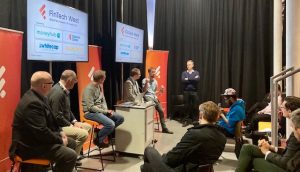 Drawing on recently published research from the University of Bristol, our vision is for a collaborative regional programme placed at the heart of a partnership of industry, academia and the regional technology cluster.   
Powered by our award-winning tech incubator partner SETsquared Bristol, the programme will support high potential fintech entrepreneurs in key development areas such as product, organisation, funding and access to market, alongside mentoring and masterclasses from a diverse range of experts from financial and professional services who are shaping the fintech ecosystem. 
Engine Shed will bring our experience of collaborative programmes to support the Accelerator to deliver tangible impacts in terms of growing regional capabilities, a diverse talent pipeline and sustainable economic growth. 
Along with our partners, we will be leading stakeholder consultation through the rest of 2021 to help work up the programme detail and structure, with plans for a Q1 2022 launch.   
If you would like to help shape the future of fintech in the region, please contact marty.reid@engine-shed.co.uk