Since 2018 Engine Shed has been working with DigiLocal to deliver culturally relevant code club games in Scratch for use at their clubs across the West of England.
This project is part of our Diverse Workforce for the Future Programme.
In 2017 Engine Shed set aside £15K of its Development Fund to work with partners on projects that would support diversity in the future workforce.
To find these partners Engine Shed published a 'call for project ideas'. We set out to find people that had an innovative approach on 'How to inspire and prepare young people from diverse backgrounds, for the opportunities in the high-tech, low-carbon, entrepreneurial and digital creative sectors'. We had interest from over 65 people and received 18 applications which we shortlisted to 8. These 8 projects were pitched an a event on October 10 2017, held here at Engine Shed
DigiLocal were one of the four winners who came come together to deliver a 'Super Project'.  From March to December 2018 and were awarded £7.5k to deliver their proposal, in partnership with other project partners Aeidos and Young Genius – to make some new coding worksheets for its 12 clubs across the West of England more culturally relevant. This is important as there are over 90 languages spoken in Bristol with people from over 180 countries and we need young people to be excited about the opportunities available to them in their futures.
DigiLocal® support communities to run tech clubs for young people between the ages of 8 – 14 . They provide regular, positive activities that encourage problem solving, cognitive skills and  'computational thinking'.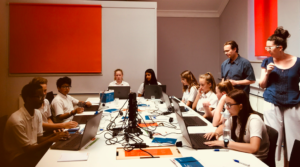 Digilocal want to ensure technical skills are accessible to all young people in the region.  Winning support from Engine Shed through the 'Call for Ideas', Digilocal linked parents, engineers and children to co-develop exciting and culturally relevant resources, which it was hoped would increase participation and engagement at their 12 weekly clubs.
Digilocal will hosted two workshops with communities to generate ideas, stories, or traditions that could be developed into a game or activity.  Working with the tech community and with Digilocal Director John Bradford's excellent guidance, some of the ideas were turned into two games that can be used at club sessions across the region. The process delivered worksheets, allowing young people to understand the engineering and mathematical journey. The games themselves were developed using Scratch which they use for other projects.
Through the 'Super Project' Engine Shed also funded educator and STEM ambassador Lucia Burtnik to work with the Digilocal team to ensure that resources engage young people in Maths, by making the subject fun and accessible. The project employed a co-ordinator, Sibs Tshabalala, who made great links with community groups and developed the Young Genius element of the 'super project.'
Engine Shed connected the project with tenants boomsatsuma who were able to get their VR, VFX and Gaming students to create visual assets for use in the game in Scratch.
The two games and worksheets for them were launched at the Digilocal end of year celebration at Barton Hill Settlement on Saturday 8 December 2018 and you can read the story here.
If you want to find out more about the project or get involved in the coding clubs, please contact John Bradford.