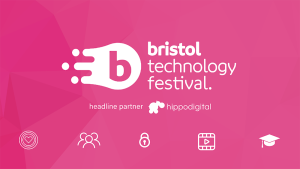 Engine Shed is one of the founding partners of Bristol Technology Festival.
Now in its fifth year, the Bristol Technology Festival has become an annual highlight of the city's calendar, with a week–long programme bringing together events, people and communities across the city to share, learn, explore and showcase the technology developed in our region. 
With over 70+ inspiring events each year, this is Bristol's largest technology collective, designed to support those working in the industry and celebrate the depth of our sector. 
Run by tech companies and tech clusters operating across Bristol and wider area, it offers a platform for members, the region's technology sector, education, government, companies and other organisations keen to engage with the
sector and support its growth
Its objectives are to: 
Raise the profile of the Bristol tech sector – locally, na

tionally and internationally, by showcasing the existence of a broad breadth of activity in sectors and 

technologies.

 

Make 

technology, technology jobs and technology entrepreneurship more accessible to more citizens of 

Bristol.

 

 
Any activities endorsed through the Festival should have alignment with our broader values: 
Diversity and inclusion

 

Community Engagement

 

Sustainability

 

Responsible Innovation
The inaugural Festival in 2019 showcased 42 events across 22 venues, with over 5,000 attendees. Last year's Festival hosted 70 events and attracted just under 5,000 attendees.