At Engine Shed we are proud of the varied and diverse tenants that rent our coworking space, The Interchange. Using Engine Shed's office and event spaces allows us to reinvest profit back into the local economy through our growth, innovation and inclusion projects, and enables smaller organisations to benefit from being part of the Engine Shed community.
Life Fitness rents four desks in the Interchange. Jamie Cole, Manager of Life Fitness product, Halo Retain, shared his thoughts on why Engine Shed has the best connections and vibe for co-working spaces in Bristol.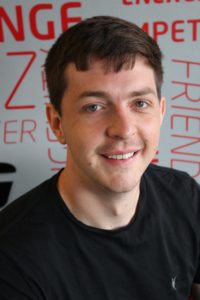 What is Life Fitness and your role within it?
Life Fitness is the global leader in the manufacture of fitness and exercise equipment for gyms, workplaces and the home. I am the manager for a product called Halo, a digital solution to help exercisers get more out of their gym membership. Our tool specifically helps gyms to retain their members for longer by understanding their fitness habits.
How long have you been at Engine Shed?
We moved in this June, so 5 months now.
Why did you join Engine Shed? 
We moved in because we enjoyed the vibe here. We took up some space in the Interchange so that we could have some privacy, but we do enjoy the Members' Lounge. Half our team work remotely so it's good to have somewhere where we can all get together, without the overhead of a large office.
We were quite naive to the Bristol startup scene and, having worked from Whiteladies Road before, were a bit shocked to see just how much goes on at Engine Shed. Organically we have met others and been introduced to business, events and people that we would never have met had we not joined Engine Shed.
We did also check out Framework and Runway East but we felt Engine Shed was the winner given the easy access to transport, and the community vibe. Engine Shed also came recommended by another company we work with.
How have you benefited from joining Engine Shed so far?
Primarily connections – we now know more people and businesses than before and we are more visible. We've also been going to more networking events that we now know about thanks to Engine Shed.
Engine Shed is a collaboration between University of Bristol, Bristol City Council and West of England LEP.  Have you ever worked with any of them?
Yes, we worked with Simon Sebire from University of Bristol on a project with regards to exercise motivation. Working with him has been fantastic and we're doing some really groundbreaking work in our industry that is helping gyms to reconsider how they approach behaviour change within gyms.
How can Engine Shed continue to help you going forwards?
More connections, events and good coffee!
I do think that corporate wellness is going to be a huge area for what we do; we focus primarily on health clubs but encouraging employees to be more active is a really relevant vertical for us. We'd love to collaborate with Engine Shed on this, perhaps even setting up a pop-up gym!
Who would you like to connect with going forwards?
Anyone working in the fitness space – we're keen to hear from anyone who is going direct to consumers or even those that offer services to businesses. You can contact us on jamie.cole@lifefitness.com.
How do you keep fit mentally and physically?'
I'm not our typical target market! I like to do a bit of running but my favourite sport is 'strongman' events. You've probably watched 'World Strongest Man' at Christmas where they lift weird objects. I've entered a few novice competitions over the past few years and really enjoyed it.
I am a big advocate of Headspace for mental wellbeing. And my favourite wearable at the moment is from a US company called Whoop – they're doing some exciting things.
Engine Shed offers a range of coworking options, whether you need a flexible desk space in a communal office, a permanent base, or an occasional meeting room to hire. Our spaces provide a place for individuals or small teams to work in the company of like-minded people, a stone's throw away from Bristol Temple Meads. Find out more here.