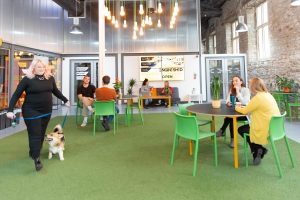 Engine Shed now welcomes dogs in the building. 
Due to popular demand, dogs can now accompany their owners in our private offices.  
And for co-workers, we've made Platform 14 (pictured here) a dog friendly area to set up your office for the day or for the hour. 
We look forward to embracing our furry friends at Engine Shed and soaking up all the positive vibes they bring. 
Please read our dog policy before bringing your dog into Engine Shed.