Hi Jen – welcome on board!
Can you tell us a bit about your life before Engine Shed?
Before Engine Shed, I spent six years as Operations Director at Lobster Pictures, a specialist construction time-lapse and monitoring company, that coincidentally started life in the SETsquared Bristol Centre over a decade ago. My time there gave me fantastic experience in a wide variety of business areas; everything from finance, compliance and health and safety through to strategic planning and process improvement.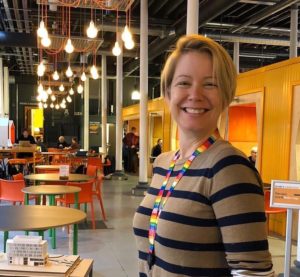 How did you hear about this role?
Managing operations at Engine Shed was a role I had always coveted but totally missed it when it was advertised! Fortunately, a friend forwarded it to me just in the nick of time.
What does your day-to-day role involve as Operations Manager?
My team and I look after all the day-to-day operations of Engine Shed, from venue management and events to facilities and finance. A typical day may include overseeing the logistics of a VIP visit to making sure we don't run out of toilet roll.
What makes Engine Shed an exciting place to work?
Engine Shed is a hub that connects an amazing a variety of people; entrepreneurs, academics, social innovators and businesses. The work being done here to help deliver continuing sustainable growth for the whole region is incredibly inspiring and exciting. It's what made me want to work here.
What is your favourite part of working here so far?
I get to work with an amazing team who are incredibly dedicated to making sure our members and tenants are well looked after and the building runs smoothly. Every day is different, you never know what will be thrown at you. It's really fast paced and varied which I love; I've barely seen my desk since I started!
What do you like about living and working in Bristol?
As a proud Bristolian I could talk endlessly about the virtues of my hometown! I love the amazing diversity of the city and the amount of experiences and events that are available on my doorstep. I also love my food and Bristol has a phenomenal food scene.  It's such an exciting time to be working in the heart of the city; Temple Quarter has been transformed over the last few years and I'm looking forward to seeing it continue to evolve.
How do you maintain a work/life balance?
I'm in the final year of studying for an MBA, so it's been more of a work/study balance for the last couple of years. But when I do get some time away from the books, you'll find me in the garden or at my (currently slightly neglected) allotment indulging my combined passions of gardening and food.
Which tasks at work do you find the most rewarding?
I love getting stuck into the behind the scenes things that make business life tick. It's not necessarily glamorous but it's very rewarding when you can bring people together to collaborate on challenges and design solutions that make things work more smoothly for everyone.