VC firm, QantX Ventures, has recently moved into Engine Shed's co-working space, Arrivals Lounge.
Here we talk to Harry Alexander, Investment Manager at QantX, on why the South West and Engine Shed?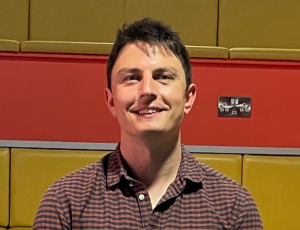 Harry, let's start with an introduction to yourself and QantX Ventures
QantX is a new venture capital firm investing in pre-seed and seed stage companies in the South-West. We're particularly excited by the wealth of innovative founders and ideas in the areas of zero carbon, modern healthcare, and digital technologies. We are currently deploying our first fund and raising a second.
Our team and advisory group have strong global connections into the FTSE 100, as well as significant business and entrepreneurial experience. We aim to leverage this to support our portfolio companies' pathway to success.
I have a background in polymer chemistry and my last role was at the Royal Society working with world renowned scientists. As an Investment Manager at QantX, my role is to identify exciting founders to partner with and support programme activities within the business. In what remains of my spare time, I'm also the founder and developer of Rude Fox Games, a micro-studio making playful science mobile games.

So why has QantX Ventures focused its market on the South West?
Prior to founding QantX, our partners (Richard Haycock, Sir Dick Olver, and Roger Killen) met whilst mentoring and investing in start-ups as part of the angel community. They all recognised the depth of innovative technologies spinning out of universities in the region and decided to launch a fund that would invest here.
The secondary practical reason is that we all live in the South West!
Tell us why you chose Engine Shed for co-working?
Being a firm spread from Bristol to Cornwall, we're a fully remote team. I'm new to Bristol and I needed a place that would help me become part of the start-up ecosystem without travelling around too much. Engine Shed, a product of the University of Bristol and its connection to SETsquared, felt to me like a good place to start.
Whilst it is early days, there already seems to be a cluster of activity, with a good mix of events and teams located in the building. Even on my first week here, there was a pitch and karaoke event where I won an award for my pitch (dubious voting system), it was a fun and a useful way to meet others in the community in a relaxed environment.
Have you worked with our parent company University of Bristol, or partners SETsquared Bristol or QTIC before?
Not directly, but at the Royal Society I was leading the Society's Entrepreneur in Residence (EiR) programme, funding experienced entrepreneurs to support innovation culture and knowledge exchange within universities. Bristol and Exeter were particularly successful, with the scheme securing 11 posts between them.
It was fascinating to hear about the impact these EiRs were having and the spinouts in biotech, quantum, and digital technology that were launching with their support. Now I'm an investor, I'm excited to be closer to the action and in a position to work more closely with the University of Bristol and its partners.
 How can Engine Shed help you going forwards?
Community is critical. Even in the first month, being at the Engine Shed has been so rewarding. I've already met many interesting founders and experts. Hopefully this will continue with more events and opportunities!  SETsquared Bristol's Tech-Xpo event last night was a great example of this!
Let's have a chat – I'm based in the Arrivals Lounge coworking space and the door is always open, or I'm on on email.