On Tuesday 12th March, we welcomed students from Kings Forest School in Kingswood for a Science, Technology, Engineering, Arts, and Maths (STEAM) Tour, introducing them to some of the potential career opportunities available in these sectors.
In a workshop hosted by Maths with Parents, the students looked at how to prepare for jobs that don't yet exist. They identified problems and created solutions that could help solve them – just like real entrepreneurs do.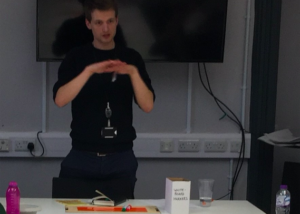 Tom Harbour, CEO of Maths with Parents, said:
"I always love working with kids and inspiring the next generation to solve problems and think outside the box. We don't know the problems that the next generations will be facing, so we need them to be innovative and daring to give things a go."
The workshop was followed by a walking tour of the historic Engine Shed building, where the students experienced Bristol's varied working environments, ranging from office spaces to coworking and flexible desk spaces, and had the chance to see some exciting tech businesses in action.
The tour also included a visit to brand, creative, and digital agency Mr B and Friends, who ran a workshop on creating a personal brand, gave a walking tour of their riverside offices, and shared stories from their team on the varied routes into a career in the creative sector. The students put their own creativity to the test with a short exercise to design a logo.
Animator and Creative Artworker, Louise Lepic, who ran the Mr B & Friends workshop said:
"We were delighted to welcome the students into our studios to see how the magic happens and to encourage them to understand that whatever their strengths and backgrounds are, there could be a place in the creative industry for them."
One of the pupils from Kings Forest School in Kingswood said:
"At Engine Shed, it was brilliant to hear what an entrepreneur is. We enjoyed thinking about all the jobs that we knew of and getting points for ones that no-one else had thought of. We then had to think up a problem that needed solving and came up with a solution for it.
"At Mr B and Friends I found out about jobs I never knew about and they told me it's something I can do! And doing all the experiments at Unit DX was great as we got to make slime. I like science as I've got a periodic table on the wall in my room. I want to do Physics at school and it was helpful knowing what I need to do to be a scientist."
Our Diverse Workforce for the Future programme engages young people around career opportunities in sectors where adults from diverse backgrounds are currently under-represented. For more information about our projects to support school students and young people as they navigate future career paths, visit our Projects page.
Engine Shed's STEAM tours have been running since January 2018 and have seen 514 pupils and 69 teachers visit us to hear from a range of tech entrepreneurs. If you'd like to support the science element of these tours then please get in touch at schools@engine-shed.co.uk.