At the Quarterly Investment Briefing yesterday, it seemed most appropriate to begin by indulging ourselves with a bit of animal spotting; as of February 2019, Bristol has (depending on your definition) two unicorns*. With the news in December that Graphcore received a round of investment firmly placing its valuation at over $1b and, more recent news that Ovo Energy has done something similar, the total investment raised in the West of England has seen quite a leap in the last quarter.
The event, which took place at Engine Shed, Bristol, is a regular fixture in the schedule and is designed to bring investors and those who facilitate investment, together to network, share and learn. The first session of 2019 saw nearly 60 people gather to hear from our lightning speakers and share their own views and updates related to investment. For those that couldn't be there, this blog is intended to share the highlights and key facts that were discussed.
I opened the session with an explanation of the current angel investment landscape in the West of England. For the uninitiated (and those who haven't spent as long exploring it as I have) you will find my map of the investment activity in the region here: https://scaleupgenerator.co.uk/investment
At the session, I explained that the main seed investment infrastructure in the West of England can be considered to be:
Bristol Private Equity Club (BPEC)
'Incubators' – RocketMakers and SimpleWeb Ventures
Whiteoak Capital
Informal angel investor links – often through hubs // regional contact points
For those looking for later stage investment support, Engine Shed provides 'Investors in residence' in partnership with ADV, Bristol and Bath Regional Capital, Maven Capital Partners and Deepbridge Capital. Incubators and Accelerators in the region also provide warm introductions to their networks of investors based outside the region. In terms of angel investment funds, the University of Bristol Enterprise Fund (read more about this below) is available to University of Bristol spinouts and SETsquared businesses. In addition, though a little further afield, the Development Bank of Wales has some significant seed (and later stage) investment available.
The first lightning talk came from Jerry Barnes of the Bristol Private Equity Club (BPEC). Jerry shared a speedy update which encompassed everything from the inspiration behind BPEC (largely from his time with 24 Haymarket) all the way through to the investments that they have made and the impact that they have delivered. BPEC makes equity investments of £150k – 500k and have completed 24 deals in their first 2.5 years totaling c. £4.6m. The group has 7 founding members and now includes nearly 70 others in the group. They review a couple of deals at each of their 10 events per year. Jerry shared some insight into a light touch impact analysis which they conducted after their first year which suggests some great outcomes so far. For more on that and how BPEC works, check out the slides linked below.
Our second lightning speaker was Alun Williams from Parkwalk Advisors. Alun shared insight and updates on the University of Bristol Enterprise Fund which is operated by Parkwalk Advisors and run in partnership. The fund, now in its third round, provides seed or follow-on investment to University spinout opportunities as well as early-stage companies supported by SETsquared Bristol. The companies that are invested in are all focussed on developing scientific innovations into commercial products. The fund is currently raising its third round and hopes to be in a position to open the call for investment opportunities in April 2019. For more on the fund, read my related blog here: https://scaleupgenerator.co.uk/articles/UoB-enterprise-fund
Roderick Beer from the UK Business Angels Association (UKBAA) joined us from London to provide the third lightning talk and news of an innovative pilot being run by InnovateUK, SETsquared Partnership, and UKBAA. The UKBAA is the national trade association for angel and early-stage investment, representing over 160 member organisations and around 18,000 investors. They provide e-learning to budding (and experienced) angel investors and also partner with Engine Shed to offer an Angel Hub here: https://www.angelhubs.org/. The pilot he was here to share is a new announcement from InnovateUK intended to increase the volume of co-investment in the region and utilisation of InnovateUK grants. Rod shared some fun facts from our friends at Beauhurst which suggest that the valuation of companies backed by equity plus innovateUK funding is significantly higher than those supported by one or other. Alarmingly, Rod also shared that…
"London and South East Entrepreneurs access 6x investment compared to South West and West."
The RAIA (Regional Angel Investment Accelerator is intended to increase co-investment between angel groups as well as de-risk the investment process and enhance visibility and access to capital. I was a particular fan of this map including angel investment actors in the South West (in this definition it stretches from Wales to Cornwall and up the West Midlands).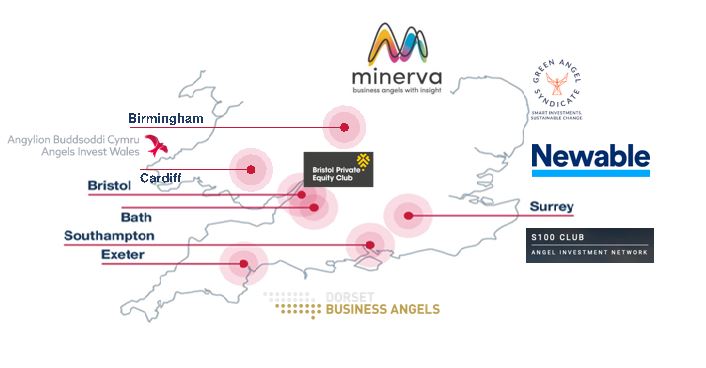 I shared the final piece of content for the afternoon – my usual update on regional investment data news. As you'll see from the slides below, 2019 has already seen 18 investments totaling £222m – largely thanks to OVO Energy and 17 other smaller equity investments. In the last quarter (since 6 Dec 2018) we've seen 27 companies receive investment not least Graphcore, BluWireless and Immersive Labs, OpenBionics and Yellow Dog. At the event, I shared one-page summaries of those companies I know about that are currently raising investment – if you're an investor and you'd like to take a look, please drop me an email – my details are below.
What is a Quarterly Investment Briefing (QIB)?
A QIB is an event which takes place on a quarterly basis to help investors and facilitators of investment activity to network, learn and share. At these events, we usually hear from 2 or 3 lightning speakers followed by conversation and a rundown on the investment data supplied by Beauhurst (and explained by me) For those people that can't attend, I always share the slides and a write up in the 24 hours after the event. This is circulated as part of the Quarterly Investment in Brief newsletter to c. 250 subscribers (as of March 2019). The events and newsletters are kindly sponsored by TLT Solicitors, KPMG and Smith & Williamson.
When is the next event?
The events in 2019 will take place on Thurs 30th May, Thurs 12 September and Thurs 28 November.
How do I sign up?
Investors should complete this short form to join the community and receive our newsletters (c. 8 per year): http://bit.ly/ESQIBFORM To attend a specific event, please sign up on Eventbrite: https://www.eventbrite.co.uk/o/engine-shed-4244274397
What if I'm not an investor?
If you're not an active investor yourself, you can still benefit from the QIB.
Founders who are raising investment are welcome to share their proposition with the group by sharing it with Briony ahead of the event. More details on how and when to do this can be found here: https://www.scaleupgenerator.co.uk/articles/qib-101
Other interested people can read all about the content discussed at the event in the articles that are posted on the scaleup generator here:https://scaleupgenerator.co.uk/articles
*A unicorn is a privately held startup company valued at over $1 billion.
This blog is written by the West of England Scaleup Enabler (and Engine Shed Associate Director) Briony Phillips. To find out more about her work, please explore https://www.scaleupgenerator.co.uk/ My email, if you want to know more, is Briony.phillips@engine-shed.co.uk