Engine Shed is delighted to announce that Mike Paton has been appointed as its new Director.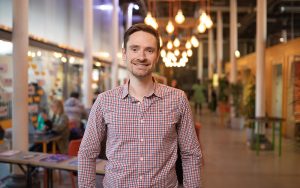 Mike comes with extensive knowledge of Engine Shed as its General Manager since 2021, overseeing operations and finance. He is also the Programme Manager for the Quantum Technologies Innovation Centre (QTIC), the University of Bristol's quantum innovation hub, launched in 2017 with a £35 million investment by local government.
Prior to Engine Shed and QTIC, Mike worked at Rolls-Royce in roles including materials engineering, service innovation and programme management, based in the UK, Singapore and Germany. He has lived in Bristol for the past seven years.
Mike takes over from Marty Reid who has joined the SETsquared Partnership as its Interim Executive Director. Marty led Engine Shed and SETsquared Bristol, its tech incubator partner, since January 2020, strengthening its vital support for start-up communities during the pandemic.
Mustafa Rampuri, Director of Enterprise Services at the University of Bristol said "Mike's experience in industry and academia, along with his commitment to diversity and inclusion and sustainability, ideally places him to lead Engine Shed, which is a beacon for the University's innovation and civic engagement work.
Mike said, "I have loved my time as General Manager at Engine Shed, working with so many fantastic colleagues, residents, partners and startups.
"Engine Shed is celebrating its tenth anniversary this December and it's incredible to see what's been achieved in that time. I'm excited to be at its helm as we define the next chapter and develop a number of new initiatives to enhance membership and innovation services, including skills and training for businesses and academia."