Ali Groves joined the Engine Shed team as Front of House Host in 2018, so we sat down to chat with her about her favourite parts of the role so far, and what inspired her to join the Engine Shed front of house team.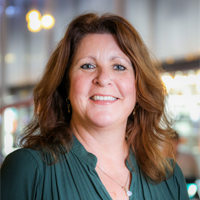 Hi Ali. What drew you to Engine Shed?
I've always taken an interest in what's going on in Bristol – the arts, innovation, new businesses, etc. So when I saw the Front of House role at Engine Shed advertised on Twitter, I thought it would be such an exciting place to work. Its position in the Enterprise Quarter was another draw for me.
What were you doing before you joined Engine Shed?
I was managing a small, regional charity supporting young carers, helping them to pursue their education, training, and career goals. It was something I felt very strongly about (my middle child is autistic which makes his siblings young carers) but in the end, the solitary working was not something I was suited to. It's ironic – I now work in a co-working space/business incubation hub with up to 30,000 visitors per year – it felt a bit like coming in from the cold!
What were your first impressions?
It's such a vibrant place with a huge mix of people. There's an atmosphere of creativity and growth, and it's never dull here.
What is your favourite thing about Engine Shed so far?
The people without a doubt! I love being part of the team at Engine Shed and getting to know all the inspirational people based here.
Tell us an interesting fact about yourself
I lived in Cape Town for 5 years!