Our Let's Chat series shines the spotlight on our all-important stakeholders that form a vital part of Engine Shed. We sat down with Mustafa Rampuri, University of Bristol's Director of Enterprise Services and Director of the Quantum Technologies Innovation Centre+ (QTIC+)  to find out about Bristol's pioneering role in quantum and deep tech research and commercialisation. 
1. For those that don't know much about you, what is your role and what is your background?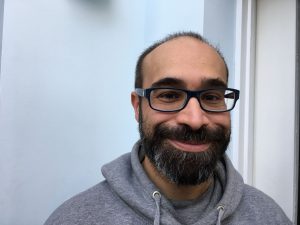 My role is to help the University of Bristol deliver on its vision to support our partners, students and staff to achieve their enterprise and entrepreneurial aspirations. This means ensuring our innovation and enterprise assets like Engine Shed, SETsquared Bristol and QTIC+ are fully enabled to help achieve extraordinary outcomes within our region.
2. What does QTIC+ do? 
QTIC+ is an innovation centre which supports businesses to take deep and emergent technology to market. Our core specialisms are quantum enhanced businesses, but we also have a great track record in cybersecurity and future networks. We provide business and technical support, as well as office and meeting spaces, high quality laboratories, a hackspace for prototyping and building device technologies…and of course great coffee.
3. Why is quantum technology so important? 
Quantum technologies work in ways that are very different to classical technologies. By harnessing the properties of single particles of light or single atoms, engineers and scientists have developed a new class of technology that goes far beyond the limitations of classical physics. This allows us to measure with greater precision, sense with greater certainty, provide communication secured by the laws of physics, simulate ultra-complex interactions, and solve problems using quantum computers that would be forever out of the reach of classical machines.
4. How are quantum technologies already influencing our lives and which sectors in your view will see the biggest growth looking forwards? 
The advent of quantum technology has set in motion a chain of events that are already changing technologies that we rely on. For instance, cryptography, used to secure our online lives, is moving towards being 'quantum safe' to mitigate that quantum computers will render our current encryption schemes vulnerable to attack.  Looking forwards, the applications will be incredibly broad and exciting, from pharmaceuticals to the energy sector. Specific examples could be faster drug discovery through simulation and analysis of more complex molecules or helping to reduce our carbon footprint through optimisations of complex interactions such as autonomous transportation.
5. Why is the UK one of the world's major investors in quantum research?  
The UK has invested in quantum for decades, however in 2014 the UK National Quantum Technologies Programme launched which has invested over £500m in research and technology development. The West of England Combined Authority had the foresight to coinvest and awarded the University of Bristol £35m to establish QTIC+.  The University of Bristol is today one of the world's leading quantum centres, boasting three Nobel prize winners.
6. QTIC+ is due to move to the new Temple Quarter Enterprise Campus in 2023. What will this mean for QTIC+?   
As we transition to the Temple Quarter Campus we will take the keys to new state of the art labs, a Design Factory for rapid prototyping and a suite of offices, breakout and meeting spaces. All under the same roof with University industrial partners, academics and students, creating a vibrant and creative atmosphere that will attract talented people and make a great venue for supply chain development, building new networks and drawing investors to the region.
7. How can we attract more diversity and inclusion into the quantum and deep tech sectors? 
This starts by breaking out of conventional modes of working to encourage people from diverse backgrounds and from all walks of life to engage with these types of activities in a way and a format that works for them, and together with community organisations who know best how to do this for the groups they represent.  It also needs visible role models and leaders from diverse backgrounds who people can take inspiration from and who can use their influence to help level the playing field. This is not easy and establishment organisations need to do more to help address the imbalance. Importantly this isn't just a nice thing to do, it's a real business imperative. Organisations with a diverse workforce are more resilient and can attract a broader customer base. Bristol, as a city, is a great example, with over 90 languages spoken. This represents more than 90 potential export markets; it means employees who have different relationships with technology are included in the product definition allowing more versatile technologies to be created that have broader appeal.
8. How would you describe Engine Shed? 
Engine Shed is one of the region's leading organisations that support enterprise and entrepreneurship. It has a formidable track record and has consistently set the standard for support for a variety of organisations to drive inclusive economic growth in the region.
9. How is QTIC working with Engine Shed and SETsquared Bristol to support entrepreneurship and innovation in the region? 
The new Enterprise Services remit brings together the University's internationally recognised enterprise and innovation assets and programmes covering a broad range of support, networks and facilities for a wonderful mix of companies. Drawing this together enables the whole region to benefit from the investments made by regional and national government, our partners and the University over many years.  For me, I'm thrilled to be working with these extraordinary teams and I'm looking forward to creating even better services and support then before.
10. To what extent can Bristol do more for entrepreneurs? 
Bristol as a region values entrepreneurship highly, however through focussed action to bring about a collective voice for the region then it will enable lines of investment to be opened. Through increased promotion of the region's businesses and entrepreneurial talent, including better coordination of networks, increased capacity for training and skills and investment to address key market failures, the region will be well placed to thrive over the coming years.
11. How do you see the future role that universities need to have in a city economy? 
Universities as anchor institutions play a vital role in regional economies; they act as attractors and producers of talent, investment and knowledge. During the pandemic, the University of Bristol has refocused on its civic mission proving that it has a role to play in supporting stimulus and economic renewal, particularly with communities in the region who would normally be overlooked, remaining in the productive margins.  The University will of course need to adapt and change continuously and its ability to do this will be the mark of success.
12. If someone is interested in exploring opportunities in quantum, who should they talk to? 
If you are a high technology business looking for technical space and support we'd love to talk to you. Please visit the QTIC website and get in touch, or talk to our colleagues at Engine Shed or SETsquared who can help make an introduction.