Our Let's Chat series shines the spotlight on our all-important stakeholders that form a vital part of Engine Shed. We sat down with Jane Wright, Investment Manager at Invest Bristol & Bath, to find out how businesses can benefit from its services.
For those that don't know much about you, what is your current role and what is your background?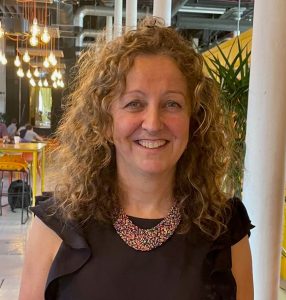 I'm the Investment Manager for Invest Bristol & Bath, which is the West of England Combined Authority's inward investment service. Its role is to support economic growth and job creation for the region, and we manage this in partnership with the four unitary authorities.
I accidentally ended up in local government many years ago after getting a summer job with Bristol City Council in its treasury department. I then moved around departments, ending up in planning with the economic development team, which is where I found my sweet spot specialising in business attraction and retention. I've been in my current role for the past 15 years, managing an experienced team and key accounts including Dyson, EDF and STRAVA.
What are Invest Bristol & Bath's main services for the region?
We offer free confidential bespoke advice and services to scaling companies which are either relocating from overseas or based within the UK. These services range from regional visits, property solutions and talent skills analysis to industry connections, sector specialist expertise and business support.
We also run a strategic engagement programme with existing large employers, including Rolls Royce, Hewlett Packard and BT, to support their growth and retention in the region.
What are your personal highlights in role in the last 12 months?
It would have to be Dyson's recent £100m investment in a Bristol tech hub which links back to its initial investment in Bristol in 2016 which we brokered.
Also, Pismo's recent acquisition by Visa for $1 billion, making it Bristol's fifth unicorn. Pismo is a good example of a fintech campaign our team ran which led to business intelligence that the Brazil-based startup was looking for a UK location and funding. We seized the opportunity to approach them and they opened their office in Bristol two years ago.
West of England Combined Authority has gone through huge growth in the last few years. Where does Invest Bristol & Bath fit within this?
The Combined Authority has the mandate to create a well-connected, greener region with the jobs and training needed now and in the future.  The inward investment service also helps to put the West of England on the map for national and global success. The organisation has had to grow to step up and deliver on that agenda including growth in the business and skills department that has enabled us to support businesses even further through initiatives including the Good Employment Charter, Skills Bootcamps and apprenticeships. These initiatives support both relocation and retention as they demonstrate we are serious about investing in our talent pool.
How would you describe Engine Shed?
Engine Shed is a great space for collaboration and to network. It is one of Invest Bristol & Bath's key assets in the region for membership and connections to business, government, and the universities.
How have you worked with Engine Shed since its inception in 2013?
Engine Shed was the launchpad for Invest Bristol & Bath! We were its first resident and ran various initiatives from the hub, including VentureFest, an Innovate UK programme bringing together academia with industry experts.
We moved out of Engine Shed in 2017 when we became part of the Combined Authority but still use Engine Shed for meeting and event space hire, and to host overseas delegations including recent ones from India and Italy. We are also an Engine Shed member.
How can residents and friends of Engine Shed benefit from your services?
Companies which are fast growing across key sectors should make early contact with our accounts team to tap into our impartial and confidential support and advice. It's all free and we can help with any of our services offered, or you can speak to the Growth Hub team.
What more do you think the Bristol and Bath ecosystem could do to welcome inward investment?
Businesses already engage with us really well, but case studies really help to attract overseas investment. You can work with us to create case studies which we can showcase and share with our networks.
We've also had huge success in the past hosting sector focussed roundtables for potential investors, involving business ambassadors sharing first-hand their experience of being located in the region and growing a team. We'd like to grow our network of passionate ambassadors and see more of this collaborative activity happening to attract and land inward investors.
How will the new Temple Quarter Enterprise Campus contribute to Bristol's reputation for innovation?
I can see the University of Bristol's relationship with business increasingly grow. Having a flagship location at Temple Quarter will facilitate this further, attracting more innovative businesses to the region, more investment in R&D and new technologies, and increasing the number of spinouts and new jobs.
How do you envision the future role that universities need to have in a city economy?
There's always more that can be done for universities to simplify their offer. Businesses and organisations like us need to work with people within universities who really understand our needs. Innovation is an essential ingredient in the story we tell about investment opportunities and having four world class universities with fantastic ground-breaking research facilities in our patch really offers exciting prospects for the future.
If you've enjoyed this Let's Chat, please take a look at the other interviews in our Let's Chat series
Subscribe to our newsletter for the latest news from Engine Shed.