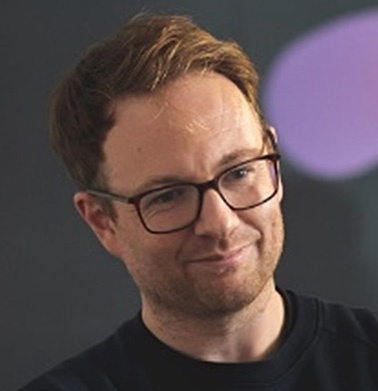 Our Let's Chat series shines the spotlight on our all-important stakeholders who form a vital part of Engine Shed.
We sat down with Ben Shorrock, Managing Director at TechSPARK , who are a key project partner with Engine Shed and many other organisations engaging in the regional tech cluster. 
For those that don't know much about you, what is your current role and your background? 
I'm part of the team at TechSPARK, whose mission is to strengthen the tech community from Swindon to Swansea. We're a not-for-profit and deliver various projects, events and connections to help businesses and talent overcome all sorts of challenges like finding extraordinary talent, meeting potential collaborators or connecting with investors.  
I've spent the last decade working with people in the tech sector and am really passionate about helping to build our community into one of the very best in the world.  
What are TechSPARK's main focus areas heading into next year? 
TechSPARK has some absolutely brilliant projects that we're currently working on with partners. 
We've been building out our investment programme, which is helping to catalyse the investment ecosystem by training founders, connecting investors and highlighting the opportunities in our region. We've recently appointed a new team member who's London based to develop our relationships with investors there and get them involved in the Bristol & Bath startup community.  
We've also continued to focus on making our community as diverse and inclusive as possible by building on initiatives like our SHIFT programme. This works with groups of people under-represented in our tech cluster and helps enable them to excel and boost their profile within the industry through mentoring, peer learning sessions and a speaker database. Complementing this, the team is about to launch a new network to support female leaders in collaboration with Engine Shed, Rocketmakers and NatWest.   
Finally, I'm super excited to see what the team will do next summer with Bath Digital Festival. It's such a great way to celebrate all the city has to offer and we have some really brilliant plans already! 
Bristol Tech Festival returns this October. As a co-founder, what motivates you to put so much of your energy and time into this festival? 
Bristol Tech Festival is just such a great way to see huge parts of the community come together, learn from each other and share their expertise. This year the festival is back from October 10th-14th, and we already have 63 events live and open for registrations. There are events across all sorts of things, from the deeply technical to explorations of some of our area's brilliant minds, and loads of opportunities to meet and network. The best thing about it is that in a very Bristol way, people do it for the greater good, and everything is either free or charged at cost.  
What talent trends have you observed in the South West during your time at TechSPARK?  
Talent is a constant challenge for organisations we work with, whether early-stage or giants. Sometimes it feels like it never gets better! I have seen an increase in the size of the community, with over 30,000 people working here now and new sectors growing all the time. We see start-ups in the quantum sector regularly, and some of the crossover creative/tech people working with projects like MyWorld are really exciting. 
The sector still isn't anywhere near as diverse as it should be, but it is slowly improving. There are some very visible and great leaders across the community, and inclusion is something I see that is a central fundamental concern rather than an afterthought. So that makes me hopeful that we're heading in the right direction.  
What projects with Engine Shed are you particularly proud of and what's in the pipeline? 
We work incredibly closely with Engine Shed and there are so many things we've collaborated on that makes a tangible difference, from using the space to showcase the region to companies considering moving here to creating a diverse stock photography.   
We have a couple of projects in the pipeline which I've promised not to speak about yet, but they're all about working with some of the most exciting organisations in our community and creating opportunities which I think will support the creation of hundreds of new, exciting, start-ups to power our region in the future. Exciting times! 
Lastly, you are Engine Shed's longest resident. Why have you chosen Engine Shed as your workspace? 
Engine Shed has been such a brilliant home for TechSPARK, and there are so many reasons for that. It's a perfect location, really flexible and has a team who are truly passionate about what they do. I think the core reason, though, is that our values align. We both want to make the city a better place, are all about community and see the value of paying it forward. I look forward to seeing what we can do together next!