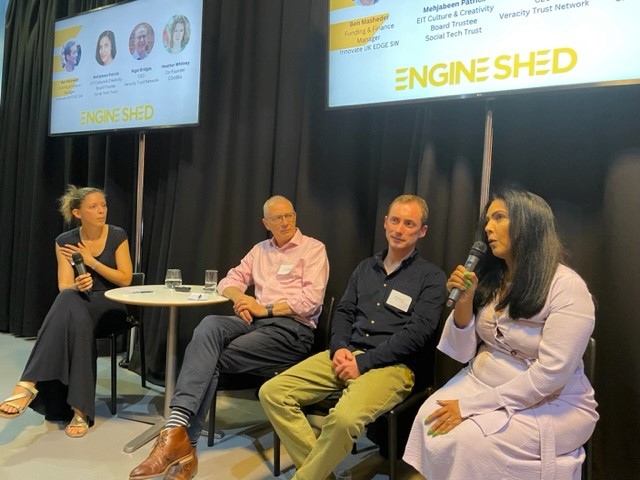 Last week, Engine Shed held a panel event on 'How can we innovate startup funding models to advance equitable access?' as part of its Financial Innovation Event Series.
The event was superbly hosted by Briony Phillips with expert input from the below panellists:
Ben Masheder – Funding & Finance Manager, Innovate UK EDGE SW
Mehjabeen Patrick – Board Trustee, Social Tech Trust
Nigel Bridges – CEO, Veracity
---
Briony started by explaining what we mean by early-stage or startup funding. What's interesting here is that equity is only suitable for a small proportion of early-stage companies, and there are lots of other funding options. The diagram below shows primary funding options (dark colour) and secondary funding options (lighter colour).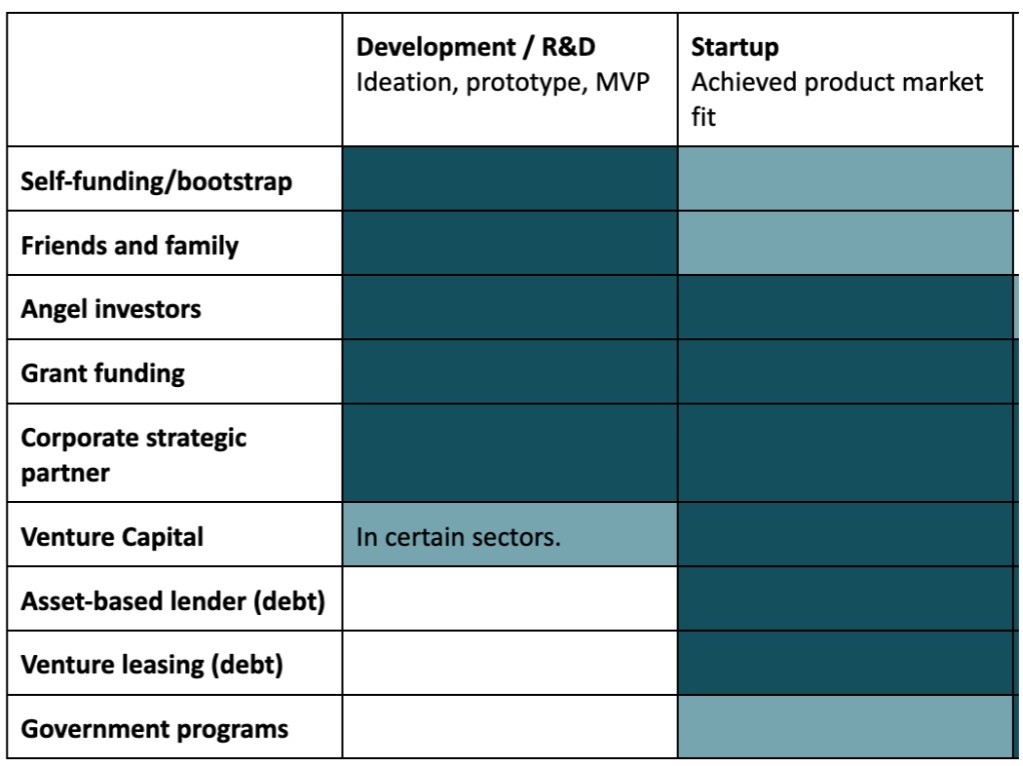 What are the inherent issues in the way early-stage funding is provided by investors and accessed by startups in the UK?
Ben – There are a lot of government grants available for early-stage startups – before the pandemic only 3% of businesses got grants, and that's now risen to 14% – but the competition to get the funding is tough, so startups need to do their research and be prepared in how they make their case.
Mehjabeen – Navigating the investment landscape is tough and mindboggling for founders, and investors primarily resonate with founders who give good pitches. The investor assessment system could do with a more disruptive model – perhaps the use of AI to sift some of the earlier stage assessments to reduce bias.
Nigel – The process between investor and founder is like 'a type of dance'. You put up a forecast that you know you'll never deliver. The funders then demand a forecast they know you will never deliver. But if you don't put one up, they won't give you the money. You have to get through this 'dance' to have decent conversations. But there's also no point having conversations with VCs until you're ready. Networks like SETsquared Bristol help you get ready.
What are the barriers that stop investors from making early-stage high risk investment?
Mehjabeen – A lot of investor groups don't have enough specialist knowledge of a specific sector, so they are wary of it. They need investor training and more role models in that sector to help them navigate it and so reinvest back into it. There are certain sectors, such as the creative sector, which lack data about successes in that space, so these success stories need to be shared more overtly. Also, when you go to investors, think not just about asking for equity but be more flexible, whether that is a grant turned into equity or debt later on, or a revenue share model.
Nigel – Founders need to be prepared to work with investors on their due diligence questions, seeing it as an opportunity, not a threat, to demonstrate why their tech is good.
What is the government doing to level up access to investment outside of London?
Ben – The government has just launched the South West Investment Fund – that's £200 million invested in the South West over the next five years in terms of equity and debt. There is also the rollout of regional Launchpads, but you have to be in certain regions to access this funding in the West of England.
What innovation would you create if money and time were no issue or object?
Mehjabeen – To support female and other underrepresented founders, we should change the way financial companies are run to support out of hours contact, because founders might not be able to talk during office hours due to care and other responsibilities.
Nigel – I would only employ financial staff who've actually launched and exited their own companies and done the journey.
Briony – Topical at the moment is discussions around whether funders should have quotas, so they have a minimum number of women or minority led organizations that they need to back, or whether they should only invest in businesses that have a sense of purpose, or social impact.
Resources
The Innovation Hub – Getting Started
Innovate UK – Unlocking Potential Award
British Business Bank – Start-up resources,  Finance Hub and Investing in Women Code
Angel Investing School
Zebras Unite Co-op
---
Engine Shed's next event in its Financial Innovation Event Series is a keynote and panel discussion which explores the question 'Is tech addressing society's greatest challenges?'