Following the successful departure of the Oracle Global Cloud Acceleration Programme, Gapsquare and TechSPARK are the new residents of Engine Shed's Arrivals Lounge.
The Arrivals Lounge is located adjacent to Engine Shed's Members' Lounge, and is designed to offer organisations a place to collaborate and scale. Previous tenants have included Just Eat, who were based in the Arrivals Lounge office before launching their own Bristol hub.
Engine Shed Director, Nick Sturge, said:
"It's great to see Engine Shed working to weave new networks and enhance collaboration between the organisations that use our space. The Arrivals Lounge has a history of housing businesses that have successfully outgrown its space, including Just Eat and Oracle, and we hope that TechSPARK and Gapsquare will see similar success supported by the new projects that they will be launching together."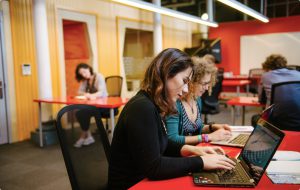 Gapsquare occupied the office as a member of the Oracle cohort, which started in July 2018, whilst TechSPARK has moved from its base in Engine Shed's Interchange Coworking space. The Interchange is an area where businesses can connect and scale up, which TechSPARK has successfully achieved.
Gapsquare and TechSPARK will be sharing the space as part of a collaboration to increase and improve diversity in Bristol's tech sector. Gapsquare's technology helps businesses to overcome the gender pay gap, and TechSPARK's SHIFT programme helps entrepreneurs from under-represented backgrounds to boost their profile in the tech industry. Working together, the two companies will host activities and events focused on diversity in tech.
Ben Shorrock, Director of TechSPARK, said:
"We're really pleased to be moving into the Arrivals Lounge with our friends at Gapsquare as it gives us the space to grow alongside one of Bristol's most exciting tech scale-ups. Being part of Engine Shed's community of founders, tech talent, and the support ecosystem is super important for TechSPARK and helps position us in the very centre of what's going on the startup scene."
Engine Shed's flexible coworking facilities offering a range of desk and office spaces for individuals to larger companies, allowing them to scale as part of a like-minded community. If you are interested in joining the 30 organisations that work and network in Engine Shed's Members' Lounge and the Interchange, get in touch.