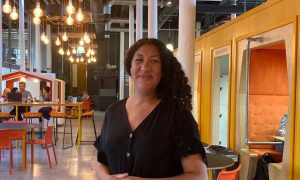 Engine Shed is delighted to welcome Emilie Harryman to the team as our Partnerships Manager. 
Emilie is no stranger to Engine Shed in her current role as Project Coordinator for Pre-Incubation Programmes at the University of Bristol where she facilitates the delivery of skills & training programmes for Engine Shed and our incubator partner, SETsquared Bristol.  
As Partnerships Manager, Emilie will lead a range of activities to connect Engine Shed's diverse and vibrant communities together, and to enable projects between Engine Shed and our partners which drive sustainable and inclusive economic growth in the region. 
Emilie will also be responsible for relationship management of our existing Lounge members to ensure our facilities and services are providing value to them.  
Membership and space rental enables Engine Shed to maintain itself as the leading enterprise hub in Bristol, providing an accessible and affordable facility for SMEs and community organisations, alongside industry, corporates, policy makers and academics. 
Commenting on the appointment, Emilie said: 
"I'm delighted to be joining Engine Shed as Partnerships Manager. There's fantastic innovation happening in our region and I'm looking forward to building on Engine Shed's existing partnerships and developing new relationships." 
If you are interested in talking about an Engine Shed partnership opportunity or Lounge membership, please do connect with Emilie by email at emilie.harryman@engine-shed.co.uk or via LinkedIn.