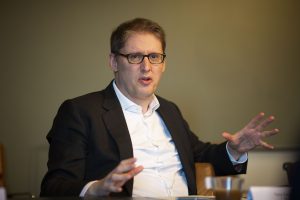 Engine Shed was delighted to host a visit by CBI Director-General, Tony Danker, to Bristol last Friday 14 January. 
Tony Danker visited Bristol and Plymouth to meet a number of key South West business leaders to discuss their ambitions within the CBI's Seize The Moment economic strategy. The strategy includes stimulating regional growth by building upon successful economic clusters around the country.   
Tony led a roundtable discussion in Engine Shed's Brunel Boardroom for key figures in the Bristol and Bath creative and tech cluster. The roundtable included representatives from Engine Shed (Director, Marty Reid), University of Bristol (Director of Bristol Vision Institute, Professor Dave Bull), Western Gateway (Director, Jo Dally) and Dick Penny. 
The Bristol and Bath creative and tech cluster is already established as the UK's most successful tech cluster and contributing £1.7billion to the local economy. 
The CBI Director General also visited Airbus and Renishaw, key players in a regional aerospace and advanced manufacturing cluster which is leading on pioneering decarbonisation advances while contributing £7billion a year to the regional purse.  
At each stage, Tony outlined the CBI's vision for growing regional prosperity, while also hearing from local business leaders about the key challenges they face.  
Tony Danker, CBI Director-General, said:  
"Building world class clusters is the key to establishing the international competitiveness of our regions, which is vital if we are to build a high wage, high skill, high investment and high productivity UK. 
"I have seen first-hand the South West's excellence in aerospace, crea-tech and maritime industries, and growing clusters like these can ignite levelling-up ambitions and deliver growth and opportunity to all parts of the country." 
Marty Reid, Director of Engine Shed, Bristol, said:  
"Whilst there has been remarkable growth in the South West across the digital and tech sectors, clusters of capability in areas like createch, quantum and deep tech are only starting to scratch the surface of the huge potential for impact on business and society.   
"Proactive engagement between business networks in the regional cluster and national organisations like the CBI will be crucial for continuing this success. We need a shared and open approach to ensure the growth driven by these clusters is environmentally sustainable and that the benefits and opportunities are accessible by anyone in society. "
About the CBI: 
Across the UK, the CBI speaks on behalf of 190,000 businesses of all sizes and sectors. The CBI's corporate members together employ nearly 7 million people, about one third of private sector-employees. With offices in the UK as well as representation in Brussels, Washington, Beijing and Delhi, the CBI communicates the British business voice around the world.  
Media Contact:
CBI Press Office is available 24 hours a day on 0207 395 8239, or email: press.office@cbi.org.uk.