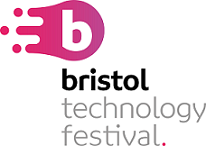 From 9-15 November 2020, Bristol will host its second Bristol Technology Festival, with events that will span the breadth and depth of the city's tech and digital sector planned to take place both online and at limited capacity venues.
Bristol Technology Festival was born in 2019 seeking to showcase the sheer scale of technology that had been developed in the local ecosystem, and share the stories of those entrepreneurs, engineers and creatives behind the technology with the people of the city, and further afield. The 2019 inaugural festival hosted 40+ events with over 5,000 attendees with the target for 2020 to reach an even greater audience.
Bristol has a long-standing history of tech innovation and the ecosystem is booming, with the most productive tech talent in the UK (Tech Nation). It feeds industries all over the world with breakthrough engineering and digital innovation. The region is famed for its creative approach to technology challenges and was recently determined as the best city for startups in the UK outside of London.
2020 has been a year where the whole city has faced unprecedented challenges and the importance of community has never been clearer.  This year the Festival will ask the question: what will the next decade see for the Bristol Tech Cluster and how can it help us to build back better from the current crisis?
Bristol Technology Festival 2020 will seek to capture people's hopes and predictions for the next decade. In what ways will technology influence how we live and work? What impact will the tech cluster have locally, and globally?
The festival is coordinated by a group of volunteers from across the ecosystem including representatives from Deloitte, Engine Shed, Hargreaves Lansdown and TechSPARK.  Events throughout the festival are crowdsourced from organisations across the city. These include tech companies, public bodies, schools, community interest groups and charities. Events are open to people in the tech sector, business leaders from across sectors, visitors wanting to know more about the region, and anyone wanting to know more about the city's digital industries. Some of the events planned include:
A webinar on 'How technology can help you boost your financial skills with local scale up Moneyhub.
The Silicon Gorge pitching competition, showcasing leading startups who are raising capital of between £150,000-£2m to an audience of international investors.
An #Idea2Pitch workshop by SETsquared Bristol, providing mentoring for tech companies looking to improve their pitching skills and business ideas.
Growth Agency HDE are hosting a reception for key technology leaders in the region to connect and share knowledge.
TechSPARK are announcing their annual Top 50 of people in the community who are impacting and putting Bristol's tech scene on a global stage.

Marty Reid, Head of Engine Shed said "Tech and digital businesses have been at the forefront in driving post Covid-19 economic recovery. Bristol Technology Festival 2020 is an important showcase of what Bristol's tech community can do and still can do.
The partners of the Festival aim to ensure that this week-long event showcases the sector in all its diversity, welcoming communities within the city which have not traditionally been included in the tech sector. Secondly, we need to promote the region nationally and internationally to attract new talent and continued investment, as many companies are now scaling up and gaining a global reputation for innovation."
If you'd like to know about the festival, or get involved as an event host or supporter, check out the website at https://bristoltechfest.org/