Engine Shed tenant, the creative educator boomsatsuma, has launched this week an 'In Bristol You Can' campaign, with an eye-catching poster installation just opposite our building in Temple Meads.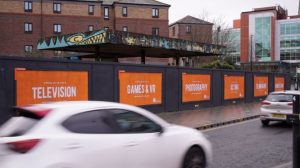 The campaign rounds off a challenging year with a positive message: that the creative industries in Bristol are expanding and boomsatsuma is providing strong education pathways into those creative careers.
Education for the technical students continued at Engine Shed throughout the lockdown and this year saw boomsatsuma launch six new BA Hons Degrees, partnered with local industry providers*.  The campaign posters highlight these education pathways into film, television, games art & VFX and acting.
Early in January 2021, the posters will transform into a street exhibition featuring, photography students' project work, with more messages of optimism for the future.
boomsatsuma director Mark Curtis states:
"We have been based at the Engine Shed for five years, and the normal bustle of the creative tenants is an ideal environment for our technical media students. In a year when life has presented so many barriers for young people the street exhibitions are a great example of our resilient young people being enabled by boomsatsuma to break through. We believe that our students qualifying from the Engine Shed will be at the heart of Bristol's creative sector for many years to come."
Check out the students' project work on boomsatsuma's instagram and twitter feeds.
*Degree partners 
Photography: Royal Photographic Society
Film Production: The Bottle Yard Studios and Films @ 59
Acting Degrees: Tobacco Factory Theatres and The Bottle Yard Studios