Guest blog by Briony Phillips, Investment Activator 
You might remember 2021 not so fondly as the second year of the COVID-19 pandemic but, take a moment to put your positive socks on and you'll find a lot more to celebrate.  
Before we leap into the exciting world of equity investment in the South West of England, let's take a moment to reflect on some of the little known highlights of the year – did you know that The United Nations declared 2021 as the International Year of Fruits and Vegetables? Or that in September El Salvador became the first country in the world to accept Bitcoin as an official currency?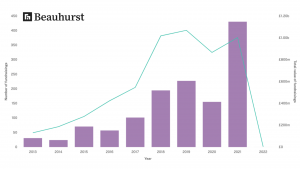 Right, with the light-hearted introduction out of the way, let's focus on the topic we're all here for – equity investment in the South West of England. The region has been on a broadly upward trajectory for the last 10 years and this year stands head and shoulders above the rest, nearly trebling the amount raised in 2021 and culminating in almost £500m raised in the final quarter of the year. In total 2021 saw 334 companies raise £1.14bn in 379 fundraising events according to our data partners Beauhurst. 
The biggest raises in 2021 include some company names that you'll no doubt recognise, raising their Series D and E rounds, and others that are much newer to the community. Let's take a quick look at the top 10: 
In total, 334 companies raised equity funding in 2021 across the South West, ranging from £162million to £5,000. This year 15 companies raised over £10m, 60 companies raised over £1m and a further 75 companies raised between £100,000 and £250,000. 
Three fifths of the companies that raised equity investment in 2021 are operating within the technology or IP based sectors and the second most prevalent sector is business and professional services quickly followed by the industrial sector and leisure and entertainment.  
The geographic spread of investment in tech is well captured by the investment map published by SIFTED last year, the infographics that accompany it provide a really engaging summary of the South West community – find it here. 
Commentators are already speculating on the next 'unicorn' companies that will be crowned in the South West in 2022, do follow our updates through the Investment Activator Programme.