Making it Happen
Our vision is for our region to be a growing economy that is inclusive, sustainable and that benefits everyone who lives here, and is recognised internationally as innovative and dynamic.
To achieve this, we innovate, seed activity and connect people to drive inclusive economic activity across sectors.
In practice we host residents who we believe will benefit from, or contribute to, our vision. We generate income from rent, event hire, coworking, consultancy and sponsorship. We use the intelligence that we gather to identify areas where we think our intervention might help achieve our mission – checking first that it isn't best for us to nudge a new or existing partner to fill the gap. We seed projects according to our values of Collaboration, Openness, Facilitation, Fearlessness and Excellence and test new ideas for others to take forward. Our people – their intelligence about what's going on and attitude to trying new ideas – are key to our impact.
Any annual operating surplus is reinvested to help us to deliver projects and upgrade our facilities.
PEOPLE

Leading projects

Meet the people who bring Engine Shed and its projects to life

Our Team

RESIDENTS

Driving change

Our residents span all sectors to create a buzzing workspace

Our Residents

PARTNERS

Creating impact

With collective purpose and an intelligent approach, partners are core to our work.

Partners
In Action
Engine Shed utilises the surplus it generates from the building to deliver projects that help achieve our vision. These projects currently fall under three themes: Growth, Inclusion and Innovation and are delivered in collaboration with others. To inform our projects, our community 'cluster-building' activities help us to reinforce the strength, depth and breadth of Bristol + Bath locally, nationally and internationally.
GROWTH

Enabling ScaleUp

Enabling the local ecosystem so that businesses of all stages and sectors can scale and prosper sustainably

Learn More

INNOVATION

Seeding change

Stimulating new areas innovation for a sectorally diverse - and therefore resilient - economy

Learn More

INCLUSION

Championing diversity

Strengthening pathways to work and entrepreneurship for all to create a more creative, sustainable and resilient economy

Learn more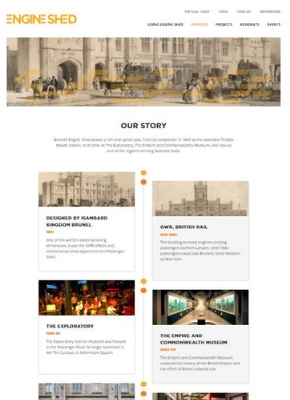 The Engine Shed Story
Our Story
Brunel's Engine Shed boasts a rich and varied past, from its completion in 1841 as the extended Temple Meads station, to its time as The Exploratory, The Empire and Commonwealthy Museum, and now as one of the region's thriving business hubs.
Discover our story